BARCELONA 
TOURS with BE LOCAL

TOURS
Free Walking Tours or Experience Tours. A plenty of choice for your Barcelona Tours.
Discover in a more personal, fun, and less anonymous way Barcelona culture, history and the best paella in town. We at Be Local Tours offer Barcelona Tours that you are not going to forget and that will make you feel like a local.
From Free Walking Tours to Experience Tours with workshops, you have many options to choose from. So, what are you waiting for? Scroll down and have a look!
 This is our current rating on TripAdvisor. If you want to read some reviews or write yours, please don't hesitate! A big thank from the Be Local Tours Team.
Both these tours start for free.
At the end of it, you decide how much it's worth.
The tours are offered in English.
Highly recommended to book online in advance. We cannot guarantee a place on the tour without a reservation. Booking is free.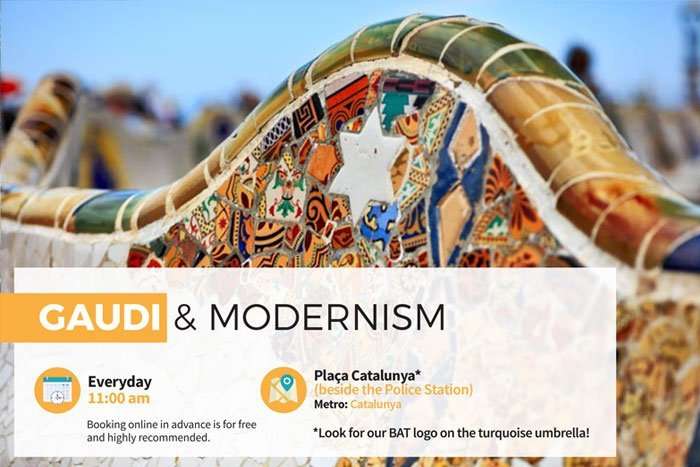 Take a trip through late 19th/early 20th century upmarket Barcelona, to see the life and works of Catalunya's architectural genius Antoni Gaudí and his contemporaries. Explore the social, cultural and political forces that literally shaped the physical appearances of these stunning buildings.
They consist of a walking tour plus a creative workshop (all the materials included in the price).
You will make a handmade souvenir to take home with you.
The tours are offered in English.
Booking is required, please visit the page for the experience tour you're interested in to reserve your spot.
We can also organise private tours for you.
Personalise your experience in visiting the beautiful city of Barcelona.
Ideal for large groups, corporate outings, schools, couples.
Tours in other languages available.
Booking is required, please visit our Private Tours page to get in touch and see what we can do for you.