The most important ingredient of a great tour?
Simply, an amazing guide.
This is why all of us at Be Local Tours are in love with our job to deliver to our customers the best experience of Barcelona.
We always prepare our tours with great passion and creativity.
Get to know our friendly team.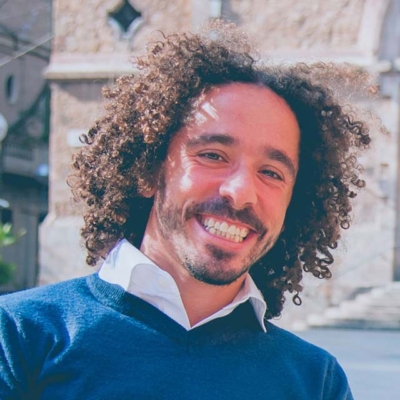 Carlos
Carlos or Carlitos in the Spanish way is our energetic and extroverted South American guide.
Even though he loves samba, beans and football, he decided to leave Brazil in 2006 and arrived for the first time in Barcelona. What was supposed to be a three months holiday ended up being a three years stay.
His passion for traveling and learning about new cultures has led him to visit, live and study in more than 10 countries.
After graduating as an official tour guide in Brazil and having worked for two years in Rio de Janeiro, he decided to return to Europe.
Why Barcelona? Ask him in his tours.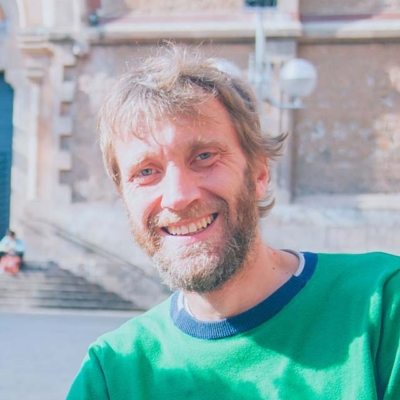 Patrick
Born and brought up in the cultural hive that is north Wales, and after studying acting and touring the UK with various theatrical shows Patrick moved to Barcelona with his Spanish wife to explore the romantic beauty of this Catalan city.
Nine years later and with a Spanish/Welsh son, he continues the joy of performing and sharing his love of history, art and culture to all who wish to know more about this vibrant, eclectic and truly fascinating city.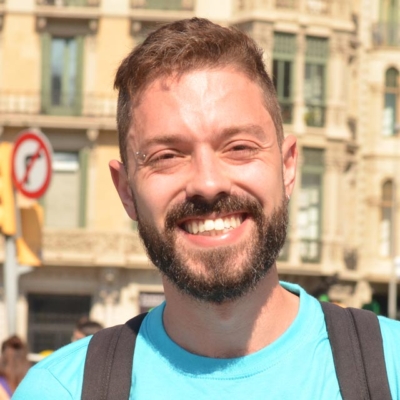 Riccardo
Riccardo studied International Relations and worked as a journalist and communication specialist. Tired of his desk job and the cold, foggy winter weather in Milan, he decided to leave Italy together with his cat Loki and move to the sunny Barcelona. Since the first time he lost himself in the narrow streets of the Gothic Quarter he fell in love with the Old City and began to explore every secret hidden corner. He likes history, philosophy and a good glass of sangria.
David
Born in Barcelona in the popular Poble Sec neighbourhood, David came back to his beloved city after many years working as a guide in Greece. A passionate hunter of stories about the lesser known and secret aspects of Barcelona, he loves to get lost in the forgotten bars of ancient "barrios" where you can often find the most amazing stories.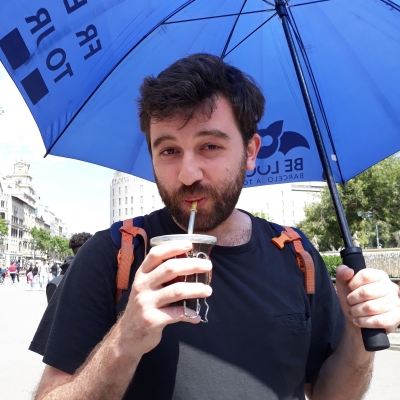 Born in Ciudad de La Plata, Buenos Aires, Argentina. He passed his whole life being the bad student, left his career as an architect and focused full time to public relations, stand-up comedy and creative advertising. Some years ago he traveled to Europe for the first time and you could say he fell in love Barcelona, but the truth is that he fell in love with being a tour guide. So he came back to Argentina just to pack his stuff and start a new job with us. Although he doesn't do stand-ups anymore, he says that during his tours feels like being on the stage again.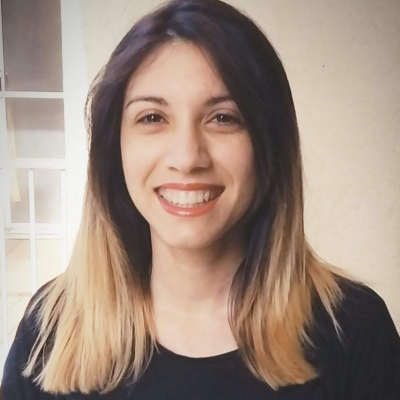 Originally from Cuba, Romy started working as a guide in Havana and later moved to Barcelona to keep studying. She has a Bachelor's Degree in German translation and speaks four languages. Her goal is to know the history, culture and traditions of Barcelona as well as she knows those of her country. Her dynamism, patience, flexibility (and sense of humor!) make her tours an amazing experience.