Seasick buffalos and indians at Columbus Monument
Buffalo Bill and his famous Wild-West Show arrived in Barcelona's port on the 17th of December 1889. According to the journalists, the big crowd waiting at the port for his arrival was amazed by the huge buffalos, who had suffered seasickness while tied on the deck of the ship. Used to the great prairies of America, the big beasts had probably not enjoyed the rolling trip through the Atlantic Ocean. The same must have happened to the 200 Native Americans who were travelling with them, as the press reported their faces were also green from seasickness.
As soon as the unusual guests arrived they had a meeting with the local press and a bunch of curious onlookers under Columbus Monument, some journalists pointed out that this was probably the first time an "Indian" had set foot in Barcelona after those brought by the same Columbus after his first travel to the American Continent in 1493.
Cowboys riding in Las Ramblas
Buffalo Bill, as any great celebrity, had a luxurious room reserved at Cuatro Naciones Hotel in Las Ramblas, while the almost 200 Native Americans were brought to a temporary camp situated at the crossroads of Aribau and Rosellón streets, in a still incomplete Eixample, the part of the city that in a few decades would become the fancy Modernist area of the city. The Indians and the cowboys following Buffalo Bill, for obvious reasons, didn't get along very well and were therefore camped in two separate locations to avoid the proverbial "Western Saloon" fights that inevitably started when alcohol started to flow.
The promotional campaign that anticipated the show was spectacular. It included horse rides in the middle of Las Ramblas by cowboys and Indians that excited the population and were the talk of the town. This resulted in a large audience on the night the show took place.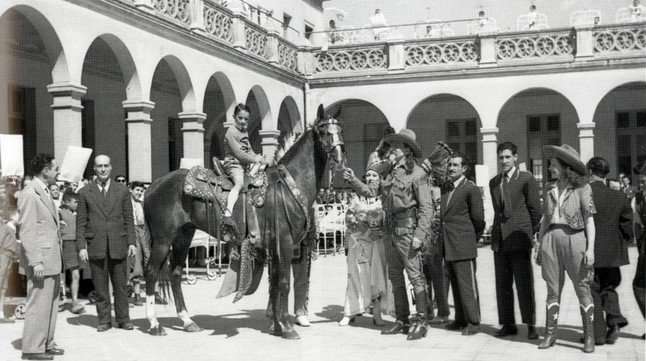 A successful yet catastrophic (Wild West) Show
Despite all the promotional effort, the show itself was a financial failure, as most of the spectators payed the entrance with fake money, tricking the Americans, who were not familiar with local currency.
On top of that, since it was winter, a typhoid fever (some newspapers reported flu or smallpox) made a lot of Indians and Cowboys ill and even killed Colonel Frank Richmond, the stage name of James E. Twitchell, an actor who performed as 'lecturer' and director of performance for the show, whose body was sent back to the USA.
And so it was that the great hero of the Wild West probably left Spain quite unhappy, while the locals would tell for years stories of Buffalo Bill in Barcelona with his cowboys and Indians galloping through the streets of their city.
This blog post was written in collaboration with our guide David Burruezo and Barcelona Other Eyes Routes.